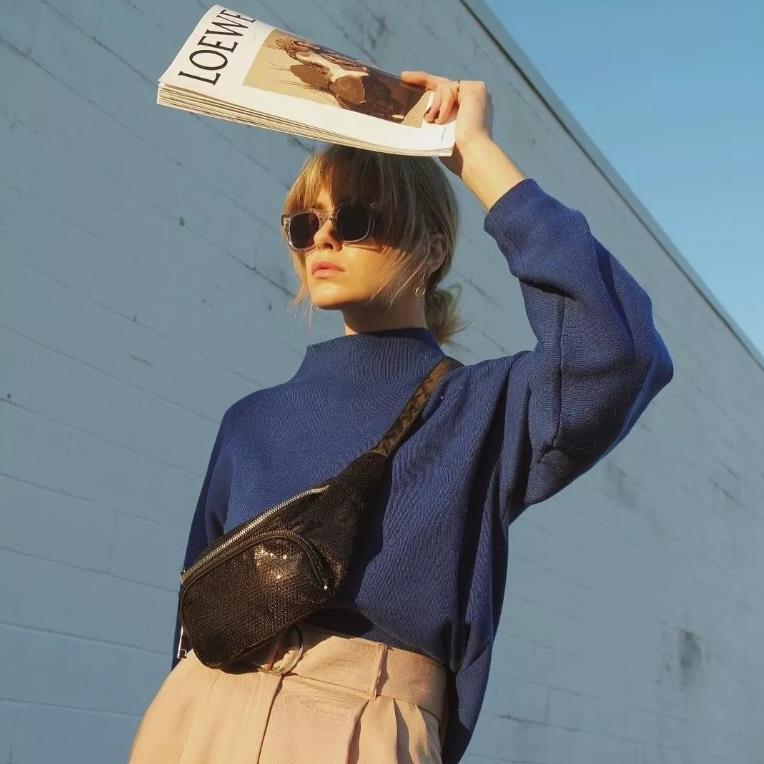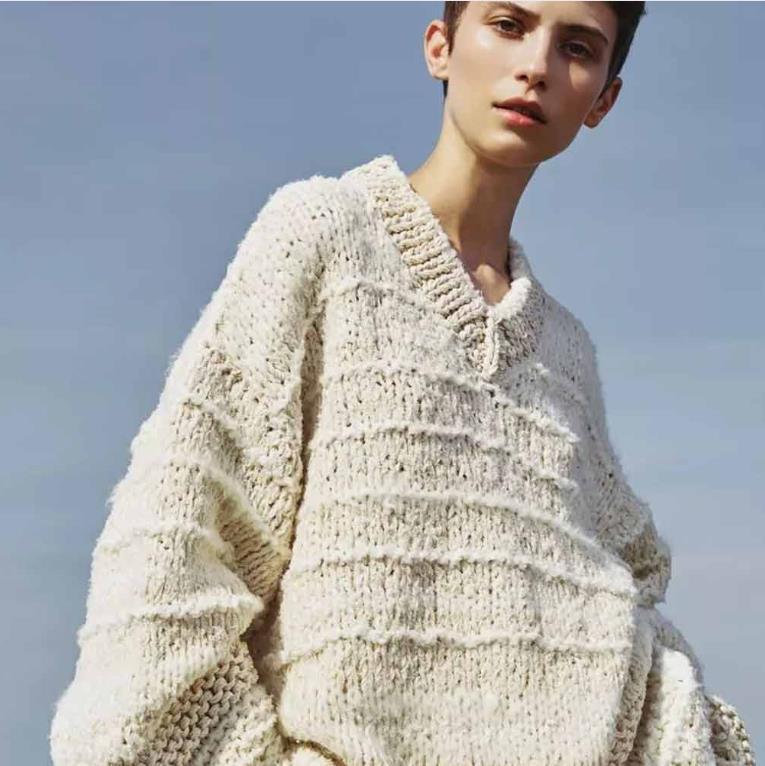 Everyone's style is subjective, that's right. Below our goal is to provide some inspiration on how to wear a
sweater
.
How to Style a V-neck Sweater?
The V-neck is one of the most popular styles of sweaters. The sloping neckline showcases just the right amount of collarbone. They make a great layering piece and are versatile. The extra space on the side allows you to show off your shirt collar and tie while providing an extra layer of comfort.
Wondering what to wear under a V-neck sweater? For a slightly more casual look, a button-down shirt without a tie and a pair of jeans or chinos provide a nice casual look. Indulge in some jazz; from miniature prints to flowers. For weekend style, a classic plaid shirt is perfect with a V-neck sweater, especially when paired with jeans and leather boots.
To enhance your look, wear your V-neck and shirt under a blazer. Opt for a clean-lined blazer in block colors so you don't look too busy.
What is the Best Way to Style a V-neck Sweater for Women?
The women's V-neck sweater can be worn alone or with a button-down shirt underneath. To wear over a shirt, it's best to opt for a slim-fit sweater to keep the shirt in shape. A shorter sweater allows the hem of the shirt to be exposed and looks effortless, especially if you can roll up the sleeves and fold the shirt sleeves back. Textured sweaters are perfect for this style, including a nice V-neck sweater.
A slightly loose or baggy V-neck sweater is best worn alone. The V-neck can be worn wider around the collarbone. For a looser sweater, it's best to pair it with slim-fitting trousers on the lower body. A pair of leather boots and an oversized tote are the perfect accessories to complement this super-casual style.
How to Style a Crewneck Sweater?
Because they are versatile, crew neck sweaters can be dressed up or down and are very versatile. You can opt for a chunky fisherman crew neck to make a statement, especially as a winter jumper. Thinner sweaters, such as merino wool or cashmere, are best in a slim fit and work best as a layered piece due to their unobtrusive nature. Perfect to wear under a jacket or suit, they are usually easier to wear during the warmer months due to their thinner construction.
Wondering what to wear under a crew neck? While there is much less collar space for a shirt on a round neck, a shirt is still a perfectly acceptable option to wear under a sweater. Just make sure you are able to tuck the shirt points into the neckline. If you want to wear your favorite printed shirt, opt for a solid sweater with a free shade.
If you don't want to wear a shirt underneath. Wear a t-shirt as a base layer to be unobtrusive and comfortable. Pair it with casual jeans and sneakers and you've got some easy-going style.
The crew neck can also be worn under a blazer or blazer, with or without a shirt underneath, for an equally sophisticated look. That's what makes them so versatile.
For women, a slim-fit crew-neck sweater works best with high-waisted trousers and skirts to balance the body. If you're wearing wide-leg pants or a flowy skirt, a slim top is a great way to stay in shape. Likewise, slim or skinny jeans or a skinny skirt can be paired perfectly with a loose or oversized sweater.
How to Design a Sweater Tank Top/Sweater?
A sweater vest is a classic garment also known as a vest, pullover, or sleeveless sweater. Most notably associated with 70s style and its appeal, although timeless can also be polarizing. Recently, sweater vests have been gaining popularity among men and women as the ghosts of fashion of the past have made a comeback.
Sweater vests come in a wide variety of shapes and designs, and each style affects their best style and their "look."
The sweater vest can be paired with a white short-sleeve tee for a sleek, youthful look or a more classic fit.
Wear one of our CHENHONG pullovers over a classic country check shirt. Timeless in style, they are also functional. They keep your body temperature stable while allowing your arms to move more freely. This makes them great to wear under a blazer in place of a V-neck sweater, especially in warmer temperatures.
How to Design a Sweater Dress?
In winter, sweater dresses are a great alternative to pants. They come in a variety of different lengths and styles, from rolled necks to batwing designs, and can be styled in many ways.
Pair a sweater dress of any length with some leather boots, either with a bodysuit or on its own. Shorter sweater dresses look great with longer boots (like mid-calf or knee-high or even above the knee). An oversized sweater dress can cinch in at the waist with a belt and looks great with a pair of ankle boots. Pair it with a sweater dress and anything will do, as they're a versatile winter piece.
How to Style a Cropped Sweater?
We talked about cropped sweaters and their ability to balance out high-waisted outfits.
How long should a sweater be? Sweater length depends on the style and other components of the garment. A short or cropped sweater is best paired with high-waisted trousers or jeans or a slip dress, as long as your lower body is the main feature.
Long sweaters or sweater dresses are great with leggings, skinny jeans, or leggings where you want to accentuate your upper body.
End our sweater style guide
Once you find a sweater that fits perfectly, you'll feel the difference for yourself and be able to incorporate it into your personal style. Remember, the power of clothing lies in its ability to make you feel confident as you step into the world, and it's entirely your choice as to what it looks like to you. If you want to buy sweaters, welcome to
contact us
.
CHENHONG is a professional
custom sweaters wholesale manufacturer
. We have rich experience in the production of sweater dresses, sweaters, knitted sweaters, knitted pants, knitted hats, knitted scarves, and other products, and we also focus on the research of fabrics, almost all of which we are familiar with , you don't have to worry about the fabric. If you are not familiar with fabrics, we can recommend the most suitable high-quality fabrics for you according to your needs.