5 Tips for Buying a Quality Sweater
If the answer is no - then you'll love this article as the following will highlight five things to look out for when shopping for a quality sweater. Hope you have sweaters you love so much, you'll be wearing them until they fall apart!
When you think of sweaters, most men only think of the classic all-purpose pullover they wear over a white tee or another base layer.
This is a great place to start, but there are many other features and varieties to this timeless piece. Read on to learn five things to look out for when shopping for a quality sweater.
1) Sweater material
When shopping for a sweater, the most important thing to look for is its material.
This is especially true considering that sweaters are often created to help protect you from harsh conditions and cold climates. The material does play a role in how much warmth it provides you.
Here are the various materials you should use for your sweater:
Cardigan
Wool is the best material for providing warmth. The key to its insulating ability is its insulation level. The wool comes from sheep and has been used for centuries to make clothing designed to keep you warm.
Considering the different grades of wool, it is advisable to choose the highest grade wool you can afford (merino wool is a good indicator of quality). Wool can be expensive, but compared to lower-quality wool (defined as recycled wool using shorter fibers), its luxury is second to none.
Cashmere sweater
Cashmere is another form of wool made from fibers extracted from cashmere goats.
While cashmere doesn't provide as much warmth as standard wool varieties, they still provide solid warmth. Cashmere is a timeless material that goes well with many items in your wardrobe.
Cashmere is popular because of its softness. This high-quality fabric can be blended with wool to create a warm and soft sweater.
Cotton sweater
Cotton is cheap, easy to maintain, easy to clean, durable, and easy to find. If made from high-quality cotton, they make a great warm-weather sweater for the beach or spring and fall evenings.
However, cotton is not a fiber used to retain heat. Once wet, it stays wet - and worse, it feels wet (compared to wool, which can hold 30% of its weight in water and doesn't feel wet).
If you buy cotton, be aware that it has limitations - and even with those limitations, quality sweaters made from this material can be found at reasonable prices
Polyester and cheap cotton
A note on the cheap cotton and polyester blends that seem to be in vogue today. While I'm not totally against these materials, they are definitely a step up compared to wool and cashmere.
The reasons for this are based on the following points:
They have a hard time keeping their shape, especially after multiple washes.
Lack of ability to retain heat. There are some bulky polyester-cotton sweaters out there that do provide some warmth. Unfortunately, they are still no match for wool breeds due to the properties of their fibers.
2) Sweater size
The size of the sweater will greatly determine how it will look on you. That's why it's important to do it right.
When looking for a sweater, it's important to measure it like a dress shirt. At the very least, make sure you are measured as:
Sweater bust size - The sweater should fit snugly around your body but not restrict you in any way. It should look slightly fitted but never outstrip comfort.
Overall sweater length - Have someone measure you from the back of the collar to the waist to determine exactly how long the sweater will fit you.
Sweater sleeve length - Usually measured from the shoulder blade to the carpal bone, or from the top of the shoulder to the carpal bone.
Finally, keep in mind that many animal fabrics tend to shrink after a wash or two.
There's nothing wrong with making your sweater a little bigger than you normally measure. If you take good care of your sweater and avoid exposing it to extreme conditions (especially heat), your sweater should retain its shape to a great extent.
3) Sweater style
As mentioned earlier, there are many breeds available for men. Each style has its place where it works better in a specific context than others.
I'll list the varieties from most formal to least formal so you can get some context for your unique situation this holiday season:
Crew neck
The crew neck style is one of the most common and formal styles you can have, as well as one of the simplest.
It's a good-looking minimal style that goes easily with most outfits. However, they don't work well with ties and can clip the collars of some dress shirts.
A wider, softer neckline helps make room for those business-casual essentials.
Sweaters with a very tight crew neck opening will be limited to collarless undershirts and absolutely no ties.
V neck sweater
V-neck sweaters do what crew necks don't: leave room for a visible tie and, in most cases, for a shirt collar.
V-necks and their styles are a great sweater choice to complement a suit. It will keep you warmer than the standard 2 pieces without looking out of place. In fact, a cardigan can replace a jacket in casual cool weather.
The beauty of V-necks and crew necks is their versatility. As mentioned, they work well with formal wear, but can also be worn as an outermost layer, which will give it a more casual feel.
Turtleneck
The turtleneck folds up for a classic turtleneck style.
The collar of this style does not turn over, but still hangs high above the neck and is known as a faux turtleneck.
Stretched out, the collar of a classic turtleneck usually ends around the lips or cheeks; doubled up, it creates a nice thick band around the neck. A very functional warm piece - for those living in harsh climates, their practicality makes them a staple.
Moving to a less formal type of sweater, turtlenecks add warmth and are a great alternative to the pointed lapels often found on dress shirts. When wearing a jacket, be sure to choose a lightweight style.
Doubling is the signature look of a turtleneck, adding volume. They tend to be thinner knitted sweaters, making them a good layering option for men.
Shawl collar
The shawl collar is a sweater style and if it goes well with a shirt and tie, it might move up the list.
It's a must-have for men who love sporty business casual attire.
Shawl collars are commonly found on cardigans or half-zip sweaters, and have a wide lapel that narrows to a point at the front of the chest.
Sometimes these points overlap to create a vague double-breasted look, but more often they meet in the center of the chest, usually where the opening ends or the button/zipper begins.
4) Sweater color and pattern
The color adds some vibrancy to your sweater and lets your personality shine through. I'm a firm believer that men should stick with base colors before moving on to more vibrant shades.
Having said that, I would recommend the following colors:
Blue
Green
Cereal
Brown
Grey
White
When choosing a color, keep in mind that solid colors usually look best and provide the most versatility for your wardrobe.
Also, take a closer look at what color matches your hair color and skin tone. Whether you have warm or cool tones, there really is a difference in wearing a color that suits your skin. Stick to colors that really make you stand out.
5) Sweater price
Notice the price of the sweater to the end?
Many of us view price as the number one factor in buying clothing -- and that's a mistake.
Instead, see how well it performs using the factors above - material, fit, style, and color/pattern.
If this sweater makes you feel great and you look forward to wearing it (and it's just sitting on a shelf), these sweater types are the ones you want to fill your wardrobe.
A sweater you buy for $50, wear it once, and wear it again costs $50 each time, a waste of money.
A sweater you love and buy for $150, you wear it for 10 years every chance you get, and it gets repaired multiple times because you can't give it up.
So buy what you like rather than cheap.
Here are some things to consider when choosing a sweater. If you want to buy or customize sweaters, please
contact us
.
ChenHong is a professional
custom sweater manufacturer
with 20 years of experience. We manufacture all kinds of men's/women's knitwear and sweaters. Dongguan ChenHong relies on a large family of 200+ skilled employees to continuously accept new knowledge and new technologies to provide high-quality garments and is committed to keeping up with production efficiency while improving garment quality. We treat small and big brands equally.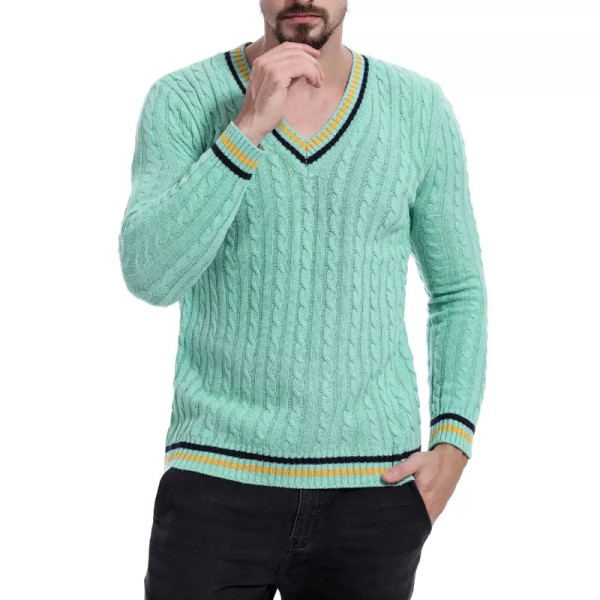 CHENHONG sweater manufacturer can provide you with customized V Neck Knitting Patterns sweaters. Welcome to consult.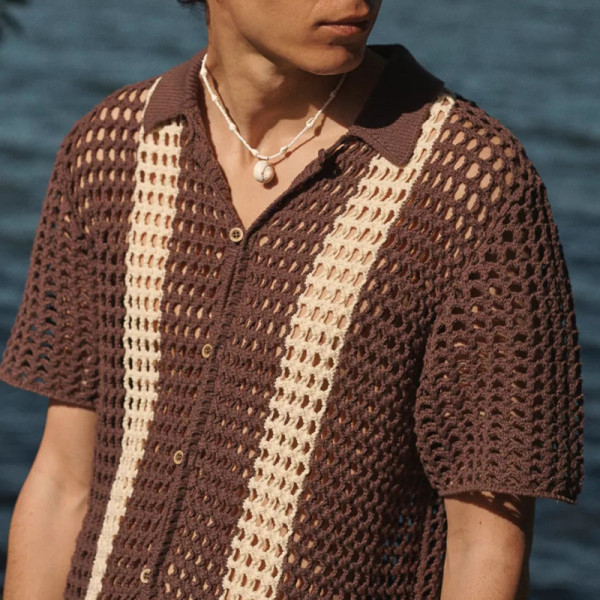 CHENHONG sweater manufacturer can provide you with customized Short Sleeve sweaters. Welcome to consult.