Sweaters vs Cardigans: Style Differences Explained
While we've enjoyed the long summer of Hawaiian shirts and denim shorts, it's that time of year again: sweater weather. You know, suddenly it's too cold to leave your arms bare, but still too hot to pull out of your heavy coat. So you open up your closet and reach for something that will bridge the gap: a sweater, or is it a cardigan?
Lots of people have a lot of opinions on the cardigan vs sweater debate. Some people absolutely hate cardigans, while others love them. But the thing is, it all depends on the outfit. The obvious difference between sweaters and cardigans makes them especially suitable for different moments.
Sweaters are usually the easier option - all you have to do is put on a pair of jeans or chinos, maybe put a button underneath and you've got your own style. Cardigans, on the other hand, require more thought. The button fly on the front means you have to think more carefully about what you're wearing underneath, as everyone will see more of it. Just imagine, you'd rather show off a high-quality t-shirt or dress shirt than show off a shabby old undershirt.
But the difference between a cardigan and a sweater is much more than that. So we wanted to take a moment to help you clear up all of these issues.
Let's start with this: Sweaters are more of a category than a single style of clothing. That is, any upper garment made of knitted fabric rather than woven fabric is a sweater. Regardless of the neckline - crew, V, turtleneck, roll, and shawl collars are options - or the pattern or design, as long as it's knit and you're sporting it on your torso, then it's a sweater.
That said, the "sweater vs cardigan" debate doesn't matter. Because in reality, a cardigan is a sweater.
What is a cardigan?
A cardigan is any sweater that has a cardigan in the front. Often this opening will be buttoned up, allowing you to control how much of the shirt is shown below (and giving you more control over your body temperature), but it doesn't have to be.
Cardigans can also have a variety of collars. Most commonly, you'll find the classic flat V neckline. They lie flat on the body around the collar, keeping it streamlined and easy to layer - you don't need to worry about any extra fabric. Another popular option is the shawl collar, which folds around the neckline for more warmth and comfort.
Like any other sweater, the look of the cardigan depends entirely on what you're wearing. Wear it with a shirt and tie in place of a blazer - or even underneath a suit - for a more formal look, or drape it over a T-shirt and jeans for a look that prioritizes comfort.
As far as casual styles go, cardigans are as versatile as you can get - as long as you can find a nice, tailored cotton tee to wear inside. Just turn it on to prevent overheating when you're running errands, and snap it on to look better when you're having a drink with friends.
With a shawl collar cardigan, you run the risk of getting a little warm from the excess fabric around your neck. Here's why we love this Polo option: it's cotton, so it doesn't retain heat like wool, but still has the same effect.
The above briefly introduces the difference between cardigans and sweaters. If you want to buy cardigans or sweaters, please
contact us
.
ChenHong is a professional
custom sweater manufacturer
. We manufacture all kinds of men's/women's knitwear and sweaters. We rely on our extended family of 200+ skilled employees to continuously embrace new knowledge and new technologies to provide high-quality garments, and are committed to keeping up with production efficiency while improving garment quality. We treat small and big brands equally.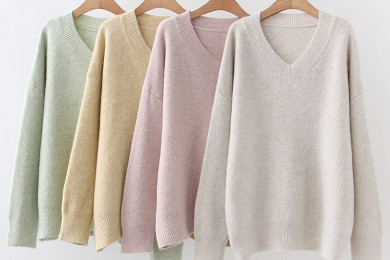 CHENHONG sweater manufacturer can provide you with customized custom knit. Welcome to consult.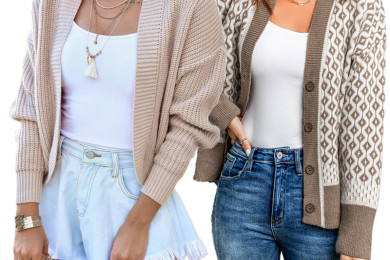 CHENHONG sweater manufacturer can provide you with customized Women Clothes Ladies. Welcome to consult.