10 Different Types of Sweaters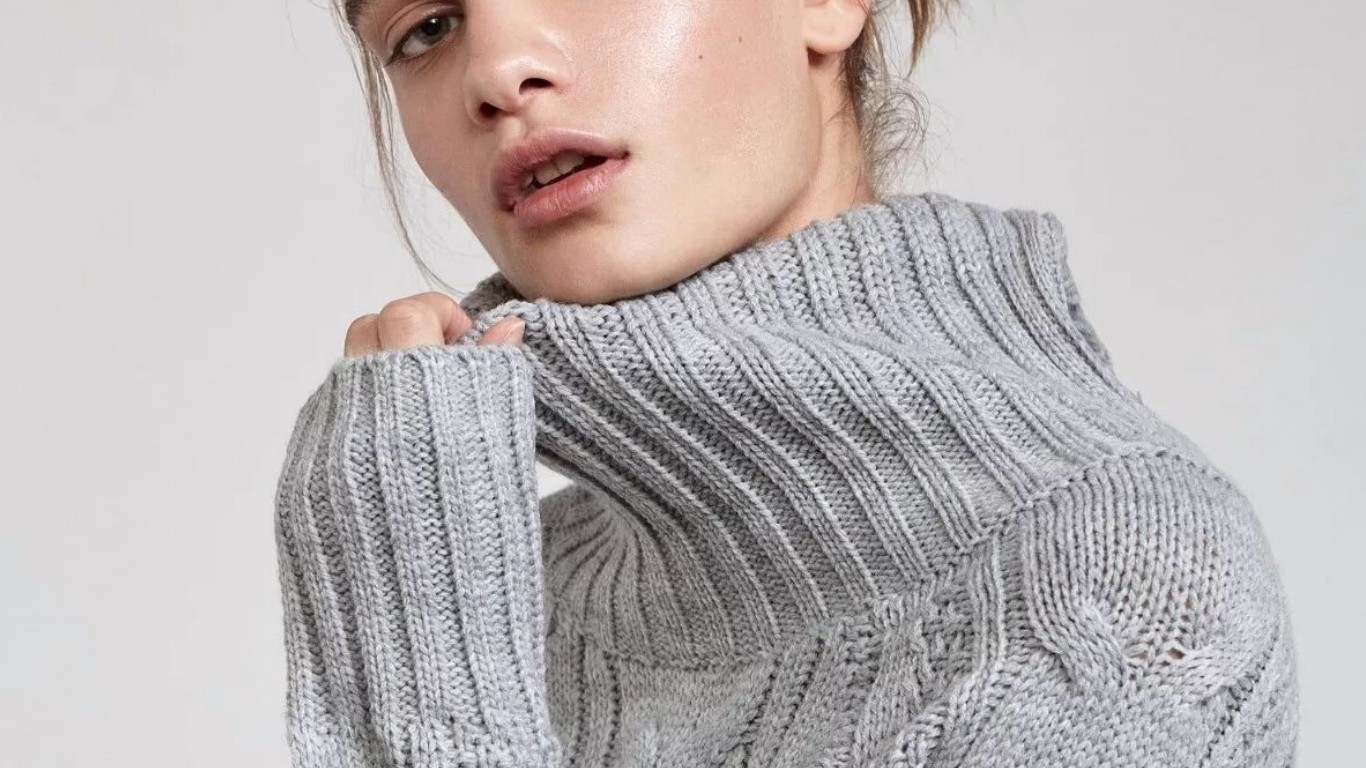 Sweaters, pullovers, sweatshirts: whatever you want to call it, adding an extra layer to your shirt is an invaluable wardrobe staple when the temperatures drop.
Just as there is no single type of shirt, there is no single type of sweater. Sweaters are as diverse as any other type of clothing, with everything from cape-neck cardigans to turtlenecks.
How many different types of sweaters are there?
There are four main categories of sweaters: cardigans, pullovers, tunics, and turtlenecks. All the different sweater names and sweater styles can be grouped into categories. Read on to learn more about what makes these different types of sweaters unique.
Cardigan sweater
The cardigan sweater is said to be named after James Brudenell, a 19th-century British general known for fussing with the look of his hair. To keep his hair from getting wrinkled by the pullover, the count added buttons to his sweater so it wouldn't have to go through the top of his head in the first place.
You can thank the earl for his vanity, as a huge variety of cardigan sweaters exists today. There are simple long-sleeved button-down cardigans that you can layer over a T-shirt or fitted shirt. There are also cardigans that have no buttons at all. Cardigans, also known as cardigans, are cut longer and looser and can be worn open over your first layer of clothing for a laid-back, laid-back look. Wrap cardigans are cut in a similar fashion but feature a bathrobe-like wrap or waistband that can be used to tighten the garment.
Another unique design feature of the cardigan is the shawl collar, which can appear on both the button front and the cardigan. The shawl collar adds an extra layer of folded-down fabric in the neck area, providing extra warmth and creating a rustic look.
Pullover sweater
Pullovers represent a huge category. In fact, any sweater that doesn't include buttons or is left open can be considered a pullover, but we'll classify tunics and turtlenecks into their own special category based on the unique characteristics of these sweater types. In the simplest terms, a pullover is a sweater that has to be pulled over the top of your head to put on. Among this non-high-neck, non-tunic sweaters, there are two main points of difference: the crew neck or V-neck.
Crew neck sweater
Crew neck sweaters originate from sports sweaters worn by athletes in the early 20th century to prevent skin irritation. Today, a more casual, sporty look makes them popular with both men and women. The crew neck sweater features a round neck and no collar, giving it a more relaxed look rather than being totally casual. They're a great option for situations where you want to dress up a bit but are concerned about overdressing.
V neck sweater
The shape of the V-neck makes it more formal than its crew-neck cousin, and it works well with collared or fitted shirts. You can pair it with a neat tie or sports coat for a more professional occasion, or leave the collar alone for an elegant but less formal look. Always make sure to tuck your shirt underneath, though!
Tunic sweater
A tunic is a difficult garment to define. Unlike other categories that appear on this list, tunics aren't always sweaters. In fact, you might see a tunic worn as a shirt the same way you would see a tunic worn as a sweater. The key difference between a tunic and other sweaters is its shape. Tunics don't fall down to a fitted hem but are cut looser, with a slightly lower body, and the hem flares out instead of tapering. Many other types of sweaters can be defined as tunics, depending on the cut and drape of the sweater. Most tunics are pullovers; some tunics have V-necks or mock necks.
Turtleneck sweater
Of all these styles, turtlenecks are probably the easiest to define and identify. A sweater is considered a turtleneck only if it meets the following criteria: The turtleneck of the sweater can be folded over and completely cover the neck. Turtlenecks go by several other names, including rolled necks or polo necks. Turtleneck sweaters can be confused with fake neck sweaters, but the two are not the same.
Fake turtleneck sweater
While traditional turtlenecks run from the collarbone to the chin, faux turtlenecks are much shorter. Faux turtlenecks give the illusion of a turtleneck sister but are less taut. It's still a cold-weather staple, but it also transitions seamlessly to warmer conditions. Fake turtlenecks offer an alternative for those who love the look but are uncomfortable with the extra fabric around their necks
Quarter zip sweater
A quarter zip sweater is very similar to a V-neck in terms of collar shape, but the zipper extends across the quarter of the sweater for easier on and off. This sweater also tends to be thicker and warmer than other sweaters and is often worn as a coat during the warmer seasons between summer and fall. Quarter-zip sweaters are also a great choice for the office, as they look professional and are super comfortable all day.
Boyfriend sweater
The key to a boyfriend sweater is that it looks like something you stole from your boyfriend's closet. Really, any style can fall into this category, as long as it's big enough for extra comfort. All of this extra fabric makes your garment super comfortable while also giving your look a casual yet chic touch. Boyfriend sweaters are a great option from warm sun to chilly nights or in an air-conditioned home, as they can be easily layered over a tee or tank top when needed and tied around the waist when not.
Sweater vest
Sweater vests are one of the weirdest types of sweaters because they don't have sleeves! They seem to go against the sweater vows to keep the wearer comfortable and warm, leaving your poor arms to fend for themselves, but honestly, a sweater vest is a must. Pair your favorite sweater vest with a button-up shirt rolled up to the elbow for a professional look in warm weather, or pair it with a stylish blazer and tie when the weather cools. You'll be hard-pressed to find a situation your sweater vest can't handle!
Ten different types of sweaters are described above in detail, if you want to buy sweaters, please
contact us
.
CHENHONG is a professional
custom sweaters wholesale manufacturer
. We have rich experience producing sweaters, knitted sweaters, knitted pants, knitted hats, knitted scarves, etc. We also focus on the research of fabrics, we are familiar with almost all the fabrics, and you don't have to worry about the fabrics. If you are new to fabrics, we can advise you on the most suitable and high-quality fabrics for your needs.